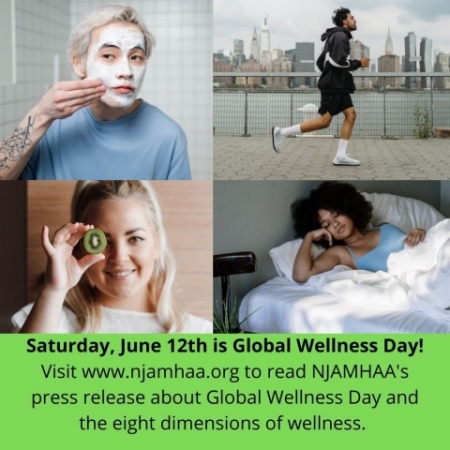 June 10, 2021
June 12th Is Global Wellness Day
On Monday, May 31st, 23-year-old professional tennis player Naomi Osaka announced that she would be withdrawing from the French Open, a two-week long tennis tournament that is the second of four Grand Slam tournaments. Osaka withdrew after being fined $15,000 by French Open officials for not participating in press conferences during the tournament. She stated that her reasoning for abstaining from press conferences was due to her mental health. Osaka shared on social media that she has suffered "long bouts of depression since [competing in] the U.S. Open in 2018", when Osaka won her first Grand Slam title. She also mentioned that at tournaments, she often wears headphones to combat her social anxiety. Osaka added that while members of the press have been kind to her, she is not "a natural public speaker" and experiences "huge waves of anxiety" before speaking with them. This action underscores why Global Wellness Day, on Saturday, June 12t should be noted. This day aims for individuals to recognize the value of their lives, to be free from the stresses of everyday life and to raise awareness about the importance of practicing wellness every day.
"I get really nervous and find it stressful to always try to engage and give the best answers that I can [during press conferences]. So, here in Paris, I was already feeling vulnerable and anxious so I thought it was better to exercise self-care and skip the press conferences. I [am going to] take some time away from the court now, but when the time is right, I really want to work with [the tournament officials] to discuss ways we can make things better for players, press and fans," Osaka wrote on Twitter.
Osaka was met with tremendous support from athletes around the world for speaking about her mental health and the pressure that professional athletes face to participate in their sports at a constant elite level. Fellow tennis star Serena Williams stated that she felt sympathy for Osaka and that she had also been in a similar mental state before. Nike and other major sponsors of the French Open also expressed support for Osaka's withdrawal from the competition. Giles Moretton, President of the French Tennis Federation; Ian Hewitt, All England Club Chairman; Mike McNulty, President of the U.S. Tennis Association; and Jayne Hrdrlicka, President of Tennis Australia pledged to work with players, touring officials and the media to improve players' experiences.
"Naomi Osaka speaking out about her struggles with her mental health is important. The Anxiety & Depression Association of America says that depression is the most common cause of disability in the United States among individuals between the ages of 15 and 44. "Osaka's speaking out about mental health can encourage young people to seek help if they are struggling. She is highlighting the importance of exercising self-care and practicing wellness, which is a positive message for the many individuals who are struggling. Establishing a routine and self-care practices, such as getting enough sleep, maintaining a healthy diet, exercising and practicing relaxation techniques, can improve a person's overall wellness," said Debra L. Wentz, PhD, President and CEO of the New Jersey Association of Mental Health and Addiction Agencies, Inc. (NJAMHAA).
Margaret "Peggy" Swarbrick, PhD, FAOTA, Director of the Institute for Wellness & Recovery Initiatives at Collaborative Support Programs of New Jersey (CSPNJ), and Innovation Director at Rutgers Health - University Behavioral Health Care (UBHC), which are both members of NJAMHAA, has identified eight dimensions of wellness. These dimensions, in no particular order, are physical, spiritual, social, intellectual, emotional/mental, occupational, environmental and financial. Dr. Swarbrick explains that each dimension can impact another in a positive or negative way. In an interview with Joseph Detrano, Science Writer & Project Lead at Rutgers Center for Alcohol & Substance Use Studies, Dr. Swarbrick stated that the most successful aspects of this model are the focus on individuals' strengths and building on people's daily habits and routines.
The World Health Organization defines wellness as a "state of complete physical, mental and social well-being, and not merely the absence of disease or infirmity". Therefore, wellness is more than being free from illness. The Global Wellness Day website states that wellness is characterized by happiness, health and prosperity and contributes to individuals' growth and development. Global Wellness Day identifies seven steps that individuals can take to implement wellness practices: walking more, drinking more water, not using plastic bottles, eating healthy food, doing good deeds, having meals with loved ones and getting enough sleep. Organizations from all over the world are encouraged to support their staff's wellbeing and Global Wellness Day and to share the importance of wellness on their social media accounts and marketing materials.