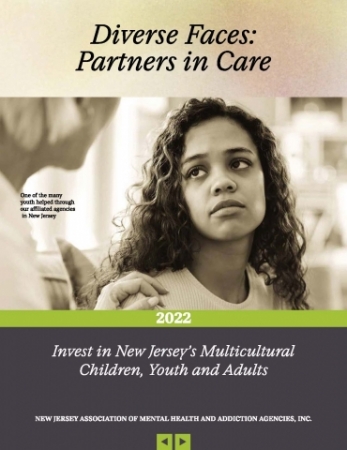 June 28, 2023
The New Jersey Association of Mental Health and Addiction Agencies' (NJAMHAA's) advocacy resulted in significant funding for the behavioral healthcare workforce and increases for some of the services these essential workers provide in Governor Phil Murphy's proposed budget for fiscal year 2024. NJAMHAA urges the State Legislature to keep all of these provisions and more in the budget that is anticipated to be signed into law this week. The Governor's funding recommendations are among numerous examples of NJAMHAA's impactful advocacy highlighted in the association's fiscal year 2023 Annual Report, Breaking Barriers in Behavioral Health Care.
"NJAMHAA's advocacy successes on the budgetary, legislative and regulatory fronts - on both the state and national levels - throughout fiscal year 2023 have set new records in terms of breaking barriers. Most notably, our Diverse Faces: Partners in Care campaign brochure and videos, as well as the media coverage it gained, resulted in significant actual and proposed funding, laws and policies that help increase access to behavioral healthcare treatment and support services - for which demand continues to increase while the workforce has been declining," said Debra L. Wentz, PhD, President and CEO of NJAMHAA.
"NJAMHAA is proud to work with dedicated and resourceful individuals in all our member organizations. They provide the highest quality services and many also help develop solutions to systemic challenges and advocate for support in transforming the behavioral healthcare system to meet the needs of children and adults throughout New Jersey," Dr. Wentz said.
"NJAMHAA is also grateful for the significant behavioral health investments Governor Murphy proposed for the FY2024 State Budget and exhorts the Legislature to maintain all the proposed investments in its final budget bill," Dr. Wentz stated.