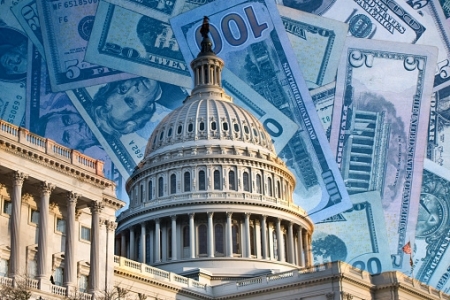 August 9, 2022
On Sunday, August 7, 2022, the United States Senate passed the Inflation Reduction Act of 2022 (H.R.5376), sweeping legislation that addresses many Democratic priorities, such as health care, taxes, and climate action. The legislation was passed by a vote of 51 in favor to 50 opposed, with Vice President Kamala Harris casting the tiebreaking vote after all Senate Democrats voted for the legislation and all Senate Republicans opposed.
The legislation had originally passed the House of Representatives by a vote of 220 in favor and 213 opposed in November of 2021; however, the bill had to be sent back to the House for a vote in its current form after a number of amendments were made to the legislation in the Senate.
The legislation would give Medicare the power to negotiate the prices of certain prescription drugs for the first time; extend expiring healthcare subsidies for the next three years; represent the largest climate investment in U.S. history; introduce a 15% minimum tax on large corporations and a 1% tax on stock buybacks; boost the Internal Revenue Service's funding and workforce; and more.
Critics of the legislation have commented that they do not believe the bill will achieve the goals stated in its name: reducing inflation. Senator Mike Rounds (R-SD) was quoted on usatoday.com saying, "It's not going to do much to help inflation. We're still going to have a problem there . . . And yet at the same time, they're going to be collecting about - real close to $740 billion in new tax revenue over the next supposedly 5 to 10 years, but most certainly, it's not going to help get us through a tight time in which we're worried about coming out of a recession."
Although Senator Joe Manchin (D-WV) had been one of the last Democratic holdouts on supporting the legislation, he was able to support it in its current form. The Senator was quoted on cnn.com saying, "I think we'll all benefit from it; the country will . . . We have energy security, that's what we were looking for. And we have the ability to invest in the energy of the future."
President Joe Biden was quoted, also on cnn.com, saying, "Today, Senate Democrats sided with American families over special interests, voting to lower the cost of prescription drugs, health insurance, and everyday energy costs and reduce the deficit, while making the wealthiest corporations finally pay their fair share."
The House of Representatives is expected to vote on the legislation this Friday, August 12th, to give final legislative approval before the bill gets sent to President Biden's desk to be signed into law.
Click here to access the legislation itself, and click here to read more on this story.