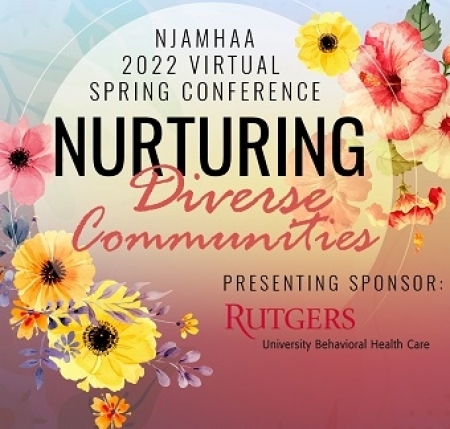 March 23, 2022
Awards to Be Presented during the Spring Conference, Nurturing Diverse Communities, April 5th at Noon
The New Jersey Association of Mental Health and Addiction Agencies, Inc. (NJAMHAA) will honor Lieutenant Governor Sheila Y. Oliver, who also serves as Commissioner of the Department of Community Affairs, New Jersey State Senator Vin Gopal (D-11th District) and U.S. Congressman Donald Norcross (D-1st District) for their support and leadership in increasing access to mental health and substance use prevention, treatment and other services. In addition, Joe Albright, who is believed to be the longest-term statehouse correspondent, will be honored for his substantial contributions to advancing the quality and accuracy of reporting on important issues that affect all New Jersey residents.
"Our award recipients from the state and national governments have been champions for advancing health equity and increasing funding to improve the quality of life for all residents of New Jersey and the United States. I am enormously humbled and privileged to recognize these extremely influential leaders," said Debra L. Wentz, PhD, President and CEO of NJAMHAA.
Lt. Gov. Oliver will receive the State Leader of the Year Award, in recognition of her exemplary stewardship in every position she has held and her constant focus on improving health equity, social justice, women's equality, health care and education throughout her career. As Lieutenant Governor. Sheila Oliver has signed into law bills to restore and revise the Urban Enterprise Zone program, promote equal pay and gender equity, and establish a program to divert youth from the juvenile justice system, as well as support youth who are reentering their communities after being involved with this system. She also expressed tremendous support for harm reduction centers, which the Department of Health is now authorized to develop under a law recently signed by Governor Phil Murphy.
The State Legislator of the Year Award will be presented to New Jersey Senator Vin Gopal as a testament to his dedication and genuine interest in the needs of those who depend on the state's behavioral healthcare system, as demonstrated by his introduction of numerous related bills, several of which were signed into law. Recently enacted laws that Sen. Gopal spearheaded are S2323 and S3491, which aim to expand access to the opioid antidote, and S2559, which requires health insurers and Medicaid to cover services provided using telemedicine and telehealth.
Congressman Norcross will be honored with the Federal Legislator of the Year Award for leading the development of three key bills - the Opioid Treatment Access Act of 2022 (H.R.6279), the Mainstreaming Addiction Treatment Act (H.R.1384) and the Parity Enforcement Act of 2021 (H.R.1364).
"As the media play a substantial role in not only sharing important information, but also shaping perceptions on critical matters, I am equally honored to recognize Joe Albright, a long-term, dedicated journalist with the Truth in Media award," Dr. Wentz added.
Albright has had a highly distinguished career of publishing thousands of articles and columns over more than 57 years and, at 93 years of age, he continues to work as a freelance statehouse correspondent.
Awards to Be Presented during NJAMHAA's Conference, Nurturing Diverse Communities
The awards reception will take place virtually on April 5, 2022 from noon to 1:00 p.m., during NJAMHAA's Spring Conference, Nurturing Diverse Communities.
Nurturing Diverse Communities.is sponsored by Platinum/Presenting Sponsor Rutgers University Behavioral Health Care; Gold Sponsor Act-Cess USA, Inc.; Silver Sponsors Mutual of America Financial Group and PerformCare; Opal Sponsors Ocean Partnership for Children and UnitedHealthcare Community Plan; Emerald Sponsors Integrity House, Oaks Integrated Care and We Work for Health New Jersey; and Amethyst Sponsors Center for Family Services, Culture Connections/Family Connections, Hackensack Meridian Carrier Clinic, Janssen Neuroscience Pharmaceutical Companies of Johnson & Johnson, Legacy Treatment Services, Mercadien, New Jersey Innovation Institute and Susan E. Payne & Associates, Inc.; and Partner Sponsor Brown & Brown.
This event will feature a keynote presentation, Dismantling Stigma: Addiction, Treatment, and Policy, by John Kelly, PhD, ABPP, Recovery Research Institute; and Elizabeth R. Spallin Professor of Psychiatry in Addiction Medicine at Harvard Medical School. In the afternoon, Chuck Ingoglia, MSW, President and CEO, National Council for Mental Wellbeing, will present the plenary session, National Behavioral Health Landscape: Where We Are and Where We Are Going.
In between these presentations, live, interactive workshops will be presented. They are categorized in three important themes for the behavioral healthcare field: Timely Issues that Affect Individuals' Mental Health and Delivery of Services for Them; Clinical Techniques, including Technology to Augment Services; and Strategies for Supporting Existing Staff and Building the Workforce.
For more information and to register for the conference, please visit www.njamhaa.org/events.
Media representatives should directly contact Shauna Moses at smoses@njamhaa.org for complimentary registration.