Last modified: Mar 14, 2022
Location: Trenton, NJ 08619
Target Area: County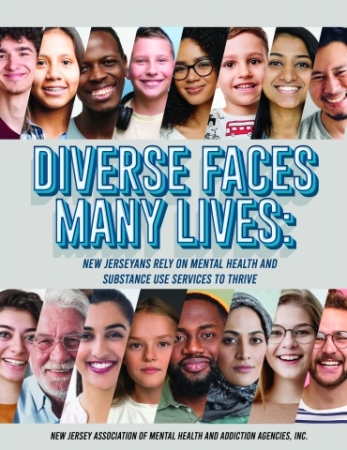 March 14, 2022
NJAMHAA Calls for More Funding to Create New Opportunities for All New Jersey Residents
"I was diagnosed with paranoid schizophrenia…everything shut down for me. With [everyone at] Oaks Integrated Care, I was able to get back to living a normal life…[Now] I feel I have something to live for, I have hope," said Brandi Kirby, Pharmacy Technician at Virtua Voorhees Hospital. Her experience is one of numerous examples of how behavioral healthcare services enable individuals to conquer the limitations that these health conditions can impose. Kirby shares the challenges she has overcome and the role Oaks Integrated Care has played in the transformation of her life in a video that is part of the New Jersey Association of Mental Health and Addiction Agencies' (NJAMHAA's) campaign, Diverse Faces, Many Lives: New Jerseyans Rely on Mental Health and Substance Use Services to Thrive.
"NJAMHAA is pleased that Governor Phil Murphy's proposed budget for fiscal year 2023 includes significant increases for mental healthcare and substance use treatment services. This funding is essential for young adults like Brandi, and all other New Jersey residents to receive the care they need that enables them to manage behavioral health disorders, as well as physical health conditions," said Debra L. Wentz, PhD, President and CEO of NJAMHAA.
"With improved health, tremendous opportunities can open up for everyone. As demonstrated in our campaign brochure and videos, behavioral healthcare services enable diverse individuals to build relationships with their families and others in their communities; complete their secondary education; work toward college degrees and employment; and achieve many other goals. For example, Brandi is currently pursuing a new career as a licensed practical nurse," Dr. Wentz added.
"The Diverse Faces, Many Lives campaign shares other success stories that are as compelling and inspiring as Brandi's experience. These individuals are from a variety of racial, ethnic, cultural and age groups. They are examples of the tens of thousands of success stories in New Jersey alone, and they demonstrate the impact of mental healthcare, substance use treatment and support services, which can empower everyone to realize and achieve their full potential," Dr. Wentz said.
"Behavioral healthcare and support services provide extraordinary value not only for individuals and their families, but also for the state's bottom line as they prevent costly emergency department visits, hospitalizations, homelessness and incarceration," Dr. Wentz stated. "NJAMHAA implores the State Legislature to vote in favor of Gov. Murphy's proposed budget to increase investment in services that are proven to greatly enhance New Jersey residents' quality of life and future prospects."
Click here to read NJAMHAA's campaign brochure and here to view video statements from Kirby and other behavioral healthcare service recipients, as well as a service provider.