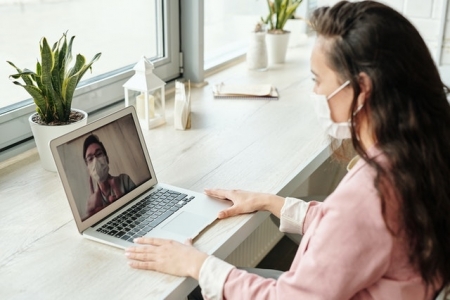 A new study from the University of Pennsylvania, Association of Telemedicine with Primary Care Appointment Access After Hospital Discharge, shows that a sharp rise in telemedicine appointments has eliminated a historical racial health gap in appointment attendance rates between Black and White patients in a Philadelphia health system.
Telemedicine use for primary care appointments skyrocketed under the COVID-19 pandemic, which provided researchers an opportunity to study how telemedicine affected access to and quality of medical care in a health system, specifically in the case of access to primary care after major hospitalizations.
Srinath Adusumalli, MD, an Assistant Professor of Clinical Medicine in Cardiology and Assistant Chief Medical Information Officer of Connected Health Strategy and Applications at the University of Pennsylvania and the study's Senior Author, was quoted on whyy.org saying, "The reason why we chose that setting after hospital discharge is because that's a particularly vulnerable time for patients, because in that transition period, someone may have been diagnosed with a new condition in the hospital … [or] started brand new medications."
The study found that from January to June of 2020, post-discharge primary care visit completion rates climbed from 62% to 72%. The majority of this overall change is due to a more drastic increase in primary care visit completion rates among Black patients, which jumped from 52% to 70% over the same period. Among White patients, there was actually a one percentage point decrease, going from 68% to 67% over that period.
Telemedicine makes appointments more convenient and brings care closer to where each patient is located. It also helps to remove some barriers to care such as having to travel to facilities and take time off from work, which may be even more challenging for individuals who are recovering from recent hospitalizations.
Dr. Eric Bressman, a Fellow in the National Clinician Scholars Program, an internist at Penn Medicine, and the study's lead author, was quoted on whyy.org saying, "There were greater barriers to geographic access to primary care for Black patients than for white patients . . . And when you start to think about the advantages that telemedicine confers, you can see how it might level the playing field in terms of access to care. For white patients, the attendance rate to post-discharge trial appointments remained just about the same [during a period of increased access to telehealth]. But for Black patients, it jumped 15 to 20 percentage points, which was kind of astounding."
Click here to read more on this story.